Triund Trek - (01N & 02D): INR 1,399/-
(Includes 2 Breakfast, 1 Lunch, Snacks with Tea, 1 Dinner, Local Transport, Camps and Trek)
Triund - Ilaqa Got (Snow Line) Trek - (02N & 03D): INR 3,500/-
Triund - Indrahara Pass Trek - (03N & 04D): INR 5,499/-
Call Now
Inquiry Form
Indrahar Pass, perched at a towering height of 14,245ft above the sea level is one such mountain pass that entices trekkers from across the globe. Located in the Dhauladhar Range of the mighty Himalayas, this pass is also popular among the tourist due to the close proximity with Dharamshala.
In addition to explore and discover the natural beauty and the fascinating charm of the high Indrahar Pass, the trekkers will also get to explore and enjoy camping around the Lahesh Caves on their way. The panoramic views of Dhauladhar and other Himalayan peaks are the add-ons of this astounding trek.
Activities: Trekking, Camping
Duration: 3 Night & 4 Days
Maximum Altitude: 14245ft
Best Time to Visit: All Season
Inclusion: Trek, Accommodations, Food, Transport, Sightseeing
Inquiry Now
Itinerary
Day 1 - Trek from McLeod Ganj to Triund (9km 5-6 Hours Trek)
This exciting trek to Indrahar Pass will begin with a trek through one of the most popular trekking routes in Himachal Pradesh. Starting at around 09:00 in the morning, a 5-6 hours trek from McLeod Ganj will take you to Triund.
Day 2 - Trek from Triund to Ilaqa Got (5km/4 Hours Trek)
Lahesh Caves/3,500m, Snowline Cafe
The first phase of today's trek will take you to the fascinating Lahesh Caves that are located at a height of 3,500m above the sea level. It is always advisable to cross the cave during the early part of the day as by afternoon, the terrains as well as the weather might get a bit challenging and risky as well.
Trekking further, you will be passing through the Snowline Cafe and will reach Ilaqa Got, the final destination for the day after around one hour from the cafe. In case, you find it hard to manage camping ground in Ilaqa Got, you will be guided back to the caves; overnight camping will be inside the camp.
Tour Ends Here
Day 3 - Trek from Lahesh Caves – Indrahar Pass – Ilaqa Got
8-9km/6-7 Hours Trek, Indrahar Pass, Dhauladhar Range, Himalayan Peaks
Today will be most fascinating as exciting part of the trek as you will be trekking to the much awaited Indrahar Pass! Today's trek through the rocky terrains from Lahesh Caves will take you to the enchanting Indrahar Pass (4,300m). Witness and enjoy the panoramic views of the Dhauladhar Range and other Himalayan peaks from the pass and start trekking back to Ilaqa Got for an overnight stay.
Day 4 - Trek from Ilaqa Got to McLeod Ganj (12km 5-6 Hours Trek)
On the last day of the trek to Indrahar Pass, you will be following the trails you trekked on the first and second day. A gradual trek of around 4 hours will finally take you back to McLeod Ganj. With your arrival in McLeod Ganj, this amazing trek will come to an end.
Tour Ends Here
Other Inclusions
Sightseeing
Tour guide, cook, porter and horses within the tour
Sleeping bags, mats and tents
Camp ground, Camping (permissions and bookings)
Meals during the trek
Bonfire
Playing Guitar
First aid kit
Mineral Water
Bluetooth Music System
Power Bank for charge your mobile phone batteries
Things To Carry
Warm and comfortable clothes
Good quality trekking shoes, slippers and extra pair of socks
Sunscreen lotion or any other skin moisturisers
Water bottles, trendy backpack and energy bars/snacks
A pair of sunglasses and camera
Caps or hats
Photo Gallery
Other Treks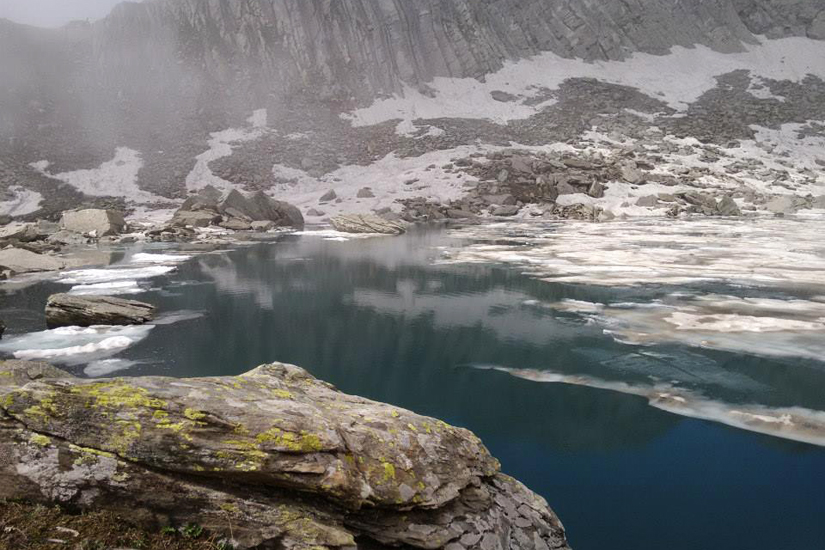 Dehnasar Lake Trek
Hampta Pass Trek
Prashar Lake Trek