Prashar Lake Trek Package | Best weekend treks in Himachal
INR 999/- (Only Camping with Dinner and Breakfast)
INR 1,999/- (Baagi Village - Prashar Lake - Baagi)
INR 2,999/- (Mandi - Prashar Lake - Mandi)
INR 5,500/- (Full Package + Delhi to Prashar Lake and Prashar Lake to Delhi)
Call Now
Inquiry Form
Prashar Lake
It lies at 2743 metres above sea level and it is 50 kms from Mandi town. This lake is situated on the cup like valley. A temple of great scenic beauty is also there. The pagoda like three storeyed temple and its surroundings make a great impression on the beholders. No other temple in the Western Himalayas can rival the grandeur of the setting of Prasher Rishi. A fair is held here in the month of June every year, where people gather from all neighbouring villages. This lake is fed by small mountains streams. High mountains of middle Himalayas surround this lake.
The Prashar Lake trek is fit for individuals of all interest- and expertise levels. Sounds exciting, doesn't it?! With views fit for a king, the trail, leading to the lake region i.e. from the city of Mandi to the little village of Baggi, become private and exclusive to every group that visits. It is of prime importance to remain hydrated and careful during every part of the journey owing to unpredictable, slippery paths and the formation of ice on the surfaces. The setting of the campsite in Prashar Lake location is yet another pleasant surprise because of its closeness to the water and its harmony with nature.
Activities: Trekking, Camping
Duration: 1 Night & 2 Days
Maximum Altitude: 8,956ft
Prashar Lake Temperature Range: -9 to 23 Degrees
Best Time to Visit: All Season
Inclusion: Trek, Accommodations, Food, Transport, Sightseeing
Inquiry Now
Itinerary
Day 1 - Arrival at Mandi and start journey to Prashar.
First of all freshen up at Resturant in Mandi and having breakfast. Then you will be driven for around 29 kms to the scenic Baggi village; arriving in the village now your trek start to Prashar Lake, enjoy packed lunch at the mid of the trek and get energised. Post this, begin with the trek to the Prashar Lake. Ascend and descend through the easy, yet captivating trails for around 4-5 hours till you reach the lakeside.
Sightseeing of Prasha Lake and Prashar Rishi Temple. After that proceed to our campsite that is 2.5 kms from Prashar Lake. Now enjoy the evening with an engrossing campfire followed by tea, snacks, dinner and overnight stay.
Day 2 - Sightseeing in Prashar Lake, Departure from Mandi
Sightseeing of Prasher Rishi Temple and Prashar Lake.
After a delicious breakfast, you will have the opportunity to explore the immaculate surroundings and the stunning landscapes of the Prashar Lake on a guided tour. Visit a nearby temple and start descending towards Baggi; be careful while trekking downwards as the trails might be slippery.
Arriving in Baggi, take a drive to Mandi, where you will be relaxing for the day and mark the end of this Prashar Lake trekking tour.
Other Inclusions
Sightseeing
Transportation for Mandi to Baggi village and return to Mandi
Tour guide within the tour
Sleeping bags, mats and tents
Camp ground, Camping (permissions and bookings)
Meals - 2 Breakfast, 2 Lunch (1 Packed Lunch during trek and 1 lunch at Baggi village on Day 01, 1 Snacks with tea and 1 Dinner (Veg and Non Veg)
Bonfire (Subject to Weather)
First aid kit
Bluetooth Music System
Volvo Tickets (for only package from Delhi to Delhi)
The trek is meant for
The Parashar Lake trek makes for a great family group tour trek. For those interested in architecture, the local temple of Prashar Rishi next to the lake, with its riveting Himachali architecture designs, blends perfectly with the landscape.
How difficult is the trek?
The Prashar lake trek is an moderate one. The lake is located at a comfortable altitude of just over 8,956ft. If you go in the months of April and May, the trail will have snow patches. This may make the trek slightly difficult. The trail has good road connectivity with cities like Delhi, Chandigarh etc.
How to prepare for the trek?
On the Prashar lake trek a lot of altitude is gained in just two days. This can make the trek quite demanding, so you need to be really fit for the trek. Though, it's just a two day trek, you need to carry things depending on the season you go in. If you are going early in the year, sunglasses are mandatory to prevent snow blindness.
Photo Gallery
Other Treks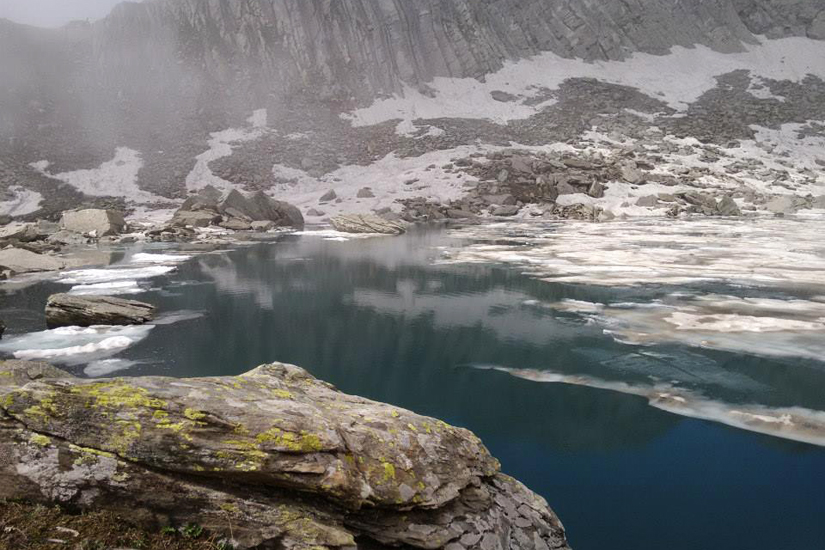 Dehnasar Lake Trek
Hampta Pass Trek
Tirthan Valley Trek