Trek to Great Himalayan National Park (GHNP). The park was always famous for its biodiversity and to add to the glory, it has been identified as a World Heritage Site. While GHNP is a vast area and many famous treks are part of the park, we have carefully drafted an itinerary that lets you get the real feeling of the flora & fauna of the park along with the convenience of time. The highlight of this itinerary is Tirthan river that guides you through the trek via Tirthan Valley. The region is also famous for Trout fish and sometimes referred as Trout valley as well.
Activities: Trekking, Camping
Duration: 2 Nights & 3 Days
Itinerary
Day 1 - Mandi - Gushaini - Rolla (2100 mts / 9 Km trek)
We leave in the Tempo traveller early morning (around 6 am). On our way, we stop by at a hotel for fresh-up and breakfast. Post breakfast drive to Gushaini via Aut. The route is beautiful and for most part, one travels alongside the rivers ( Beas & Tirthan ). We stopover for permits at Sairopa, GHNP office. One can see full size maps of the GHNP area in the office. Once we are ready to move, we start our trek from Gushaini. Immediately after entering the GHNP area from Gushaini, one can feel the dense forest with a sudden coldness in the air. Rolla (our camp site) is 9 Kms from here. All through the trail, one moves along side the Tirthan river and the views are awsome (especially for 1st day of the trek). Mobile point in the middle makes for a nice lunch site. From here we head straight to the camping site @ Rolla. The site has some huts made by the Forest department with a very nice bon-fire space developed with Tree Chunks. River flows just next to the site and the mild sound of the flow would be music to the ears in the evening.
Day 2 - Rolla to Shilt Hut (3100 mts / 6 kms trek)
Post breakfast, we head for today's target - Shilt Hut. The climb is steep today with a continuous climb. Since the distance for the day is not much, the day would not turn out as too tiring. We reach Shilt by afternoon where we have our lunch and post that we take a side trip to Chhordwari waterfall and bamboo forest. The day is defined by the dense forest and the amazing peak view at Shilt Hut. Bon fire and Camping at the night.
Day 3 - Shilt Hut - Gushaini - Mandi
Post breakfast trek down to Gushaini through a steep descending path to arrive at this peaceful hamlet! The trek ends here.
Other Inclusions
Sightseeing
Tour guide, cook, porter and horses within the tour
Sleeping bags, mats and tents
GHNP Entry Fee and Camping Fee
Camp ground, Camping (permissions and bookings)
Meals - 3 Breakfast, 3 Lunch and 2 Dinner
Bonfire
Playing Guitar
First aid kit
Mineral Water
Bluetooth Music System
Power Bank for charge your mobile phone batteries
Photo Gallery
Other Treks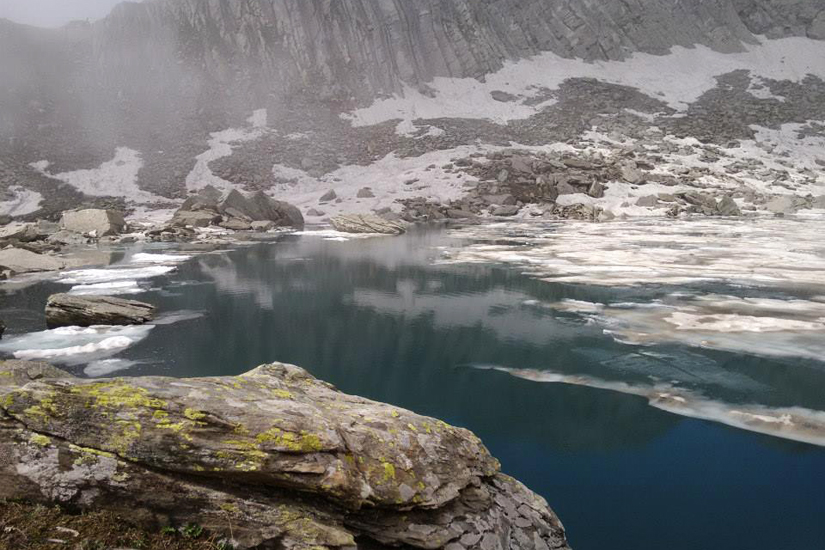 Danasar lake Trek
Hamta Pass Trek
Prashar Lake Trek